Benefits of Restorative Yoga explained by instructor JoAnne Kazis
In a world full of deadlines, e-mail notifications, and 24 hour news, it's much harder to have a clear mind. Although yoga is often seen as a great way to get a good exercise into your weekly routine, it can also be a way to get some peace and quiet for once! At Artemis, we offer restorative yoga classes that are designed to "help slow your body down and initiate a restorative, relaxation response". Rather than placing focus on strengthening and flexibility, this practice incorporates more passive stretching and opening poses. Although these classes are slower paced, they offer so many benefits to work the body and mind!
One of our restorative yoga instructors, JoAnne Kazis, answered a few questions regarding the benefits of restorative, as well as advice for anyone considering trying it out!
1.) What are the benefits of practicing restorative yoga?
What aren't the benefits of restorative yoga? There are SO many!
Whether a person has typical or small amounts of stress in their life or they have suffered from chronic stress, trauma, injury or illness, a restorative practice can help them heal.
Many of our daily physical and mental activities can cause imbalances in the body. Restorative yoga can help bring the mind and body into balance. As we practice, the hope is that we become better connected with the physical body and are able to connect to the emotional body using the breath and feeling fully supported and held using props.
Resting is underrated and undervalued by society. So many of us are sleep deprived because we cannot shut off the "busyness" of our lives. By practicing restorative yoga, we relax the nervous system and create a state of rest in the body.

There are also psychological benefits. The practice can enhance mindfulness that leads to better choices, and it also enhances patience that is beneficial.
Holding the poses for longer periods helps bring us into stillness in which we can begin to explore our mind-body connection. Focusing on the breath can relieve stress and be extremely therapeutic.
Through restorative yoga a balance of energies in the body is also felt. When the body is in balance, a state of health is achieved. Everyone would benefit by incorporating restorative yoga and other types of self-care into their lives!
2.) What advice do you have for anybody taking their first restorative class?
First, thank yourself for stepping into class! Putting yourself first on your "to do" list – practicing self-care is not indulgent or selfish. It is an act of self-love. Restorative yoga can be part of that self-care. It is a deeply relaxing style of yoga practice. It is a receptive practice, not an active practice. It is an opportunity to become a curious observer of your thoughts, your breath and your body. Our body and our breath are our greatest teachers, however we have to be able to receive the messages that they send us.
Jason Crandell (yoga teacher) has said, "Yoga is the perfect opportunity to be curious about who you are." Moving the spine in all different directions and being held in shapes during a restorative yoga practice can help you feel at ease in your body, no matter what type of body that may be! All you have to do is show up on your mat with curiosity. You may notice that a pose creates feelings for you on a physical or emotional level. Pay attention to those feelings, without judgement, to tap into where they may be coming from. The more you do this, practice with a level of awareness, the more it will help your practice come from a more intuitive place.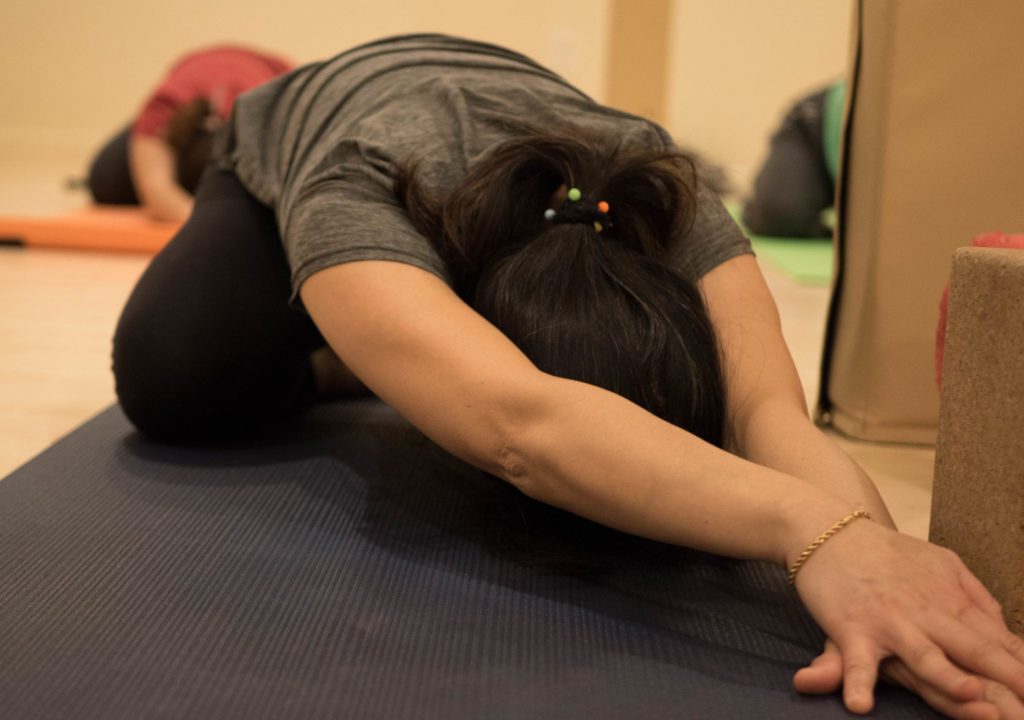 We all have the innate ability to restore, renew and heal and there's great wisdom inside all of us. The more you practice these poses, you will find what resonates for you and this will help restore some balance in the body where it is most needed. The first step though, is to make time for yourself on your mat on a regular basis.
3.) Which is your favorite position to do in your restorative practice?
That's a tough question because my favorite pose changes every time I step on the mat, depending on what I am feeling in that moment. With that said though, I do love all the heart opening poses, using either a blanket roll or if I want more sensation, using a bolster. Heart openers not only help counteract all the hunching forward that we do every day, but they also open up the back and chest and help free the breath. A heart opener for me is an invigorating pose that can change my perspective and basically brings me joy. Any pose that opens up the heart chakra is a definite favorite of mine!